3 april 2020
Kerry, Instagram: @kerrywellbeing
Hello, I am Kerry. I am from Ireland. My beautiful baby girl Freya is three and a half months. 

I always wanted to be a mother. But my stars didn't align as I expected them to: the right man at the right time didn't come along. And at the age of forty I started getting quite panicked and I made my first inquiries into some clinics to go alone to have a baby, to try. But I couldn't make that decision. At that point it wasn't an option for me. 

So the years went by and I was 47 when I found Dr. Olga's clinic and their embryo donation guarantee progamme. I thought that the fact that they offered a guarantee programme if you are unsuccessful after 4 attempts was amazing. I contacted them and I was extremely impressed with their attitude, with their approach and with their professionalism. But I didn't make a decision at that point. It took me one year to come back to them and to see if they would accept me on the program.

From the very beginning it was amazing. I can't begin to tell you how positive the whole experience was. My amazing coordinator Ann just made me feel so heard and every question I had, whether it was through my coordinator or through the medical team, was answered very quickly. I had three or maybe four sessions on Skype with one of their psychologists, who was fantastic, too, and that helped me to find answers to a lot of questions, including the ethics of this way of becoming pregnant. It was extraordinary: with every question, every concern I had and also on emotional level, I felt there was a huge mental support.

And it was all before I handed over any money to the clinic. So it just showed me where they are coming from and what kind of people they were. For me there was no question - I was in good hands and I was with the right people whatever the outcome. I was so glad that I was taking this road, although it was very scary and it was very hard to make the decision. But once I made it, there was no looking back and that was really because everybody I dealt with, from a coordinator to the medical team to the donor team, everything was superb: their professionalism, their carrying aspect, and their humanness.  

It was also a really positive experience going to Saint - Petersburg. The first time I went with friends and we had lovely time and the clinic organized a lovely city tour. It was an especially beautiful place to visit in the winter time. The next time I visited it was in the spring and I came alone, but it was also lovely and I made good connections in their beautiful clinic.

On the second attempt I was pregnant and I had the most amazing pregnancy. I hadn't felt as well as I had in years as I did when I was pregnant and at this stage I was 49. 

Freya arrived in January. She is the most beautiful and sweetest baby! I just can't say how much I love her and how grateful I am to the clinic. Everything was positive, I can't say anything negative, everything was just amazing and I am so glad I chose Dr. Olga's clinic and her team and I have now my dream come true.

I will be forever grateful and I just can't thank you enough, Dr. Olga and the whole team. Thank you for doing everything that you could to make my dream come true.

I'd love to encourage any women and any couples who are in the similar position to make contact with the clinic and to look at your options because there are many options. Just keep an open mind. For me there is no better place. They are extraordinary. 
Another one testimonial from Kerry: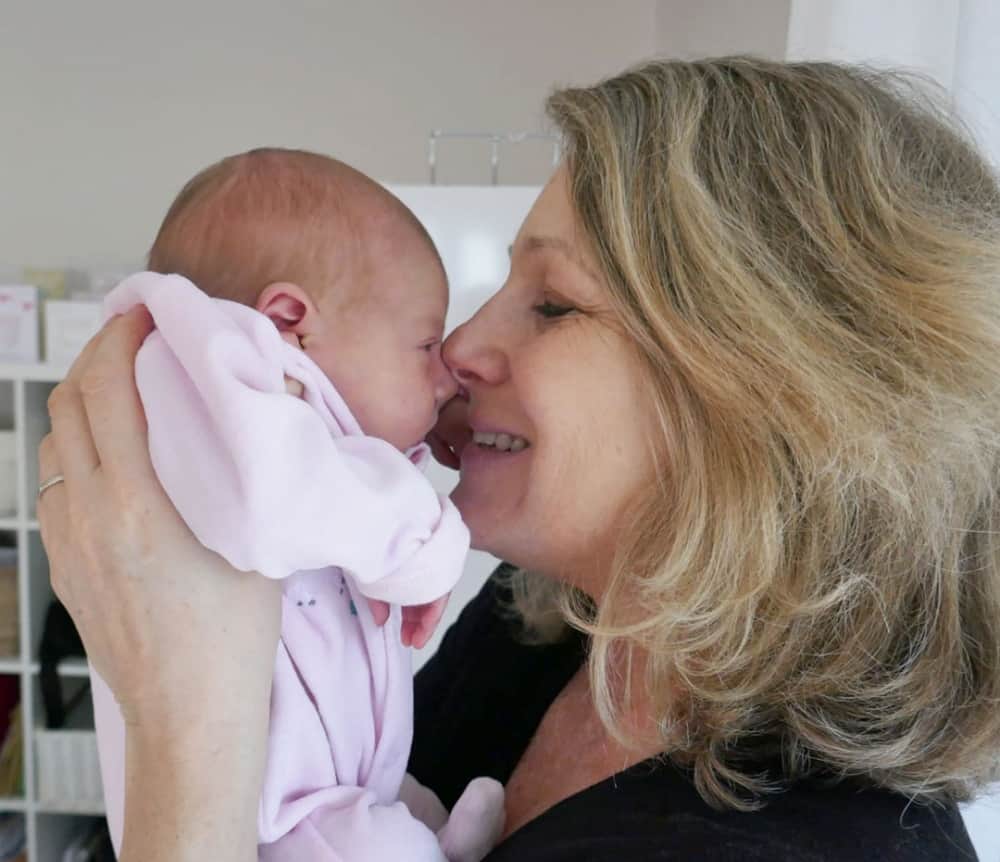 Your mission was to help bring a healthy baby to my arms. I now have my beautiful and healthy baby girl, Freya, thanks to you all.

I want to thank you all for making my dream come true. I cannot find the words to express my joy with being a mother to this little angel. She is just divine!  Her nature is so sweet and placid, and she is already smiling at almost 5 weeks old. I could never give up my dream of being a Mum, but at 49 years old, I knew it would really be a miracle.

The day I came across your clinic, I knew I had to get in touch with you. From the moment I made contact with you, thanks to my wonderful coordinator Ann, everything was clear. Any doubts or questions were clarified, and I felt in very good hands in every way. Every team member I was in contact with was extremely professional, yet caring and personal.
Although making the decision to go ahead as a single woman was not easy, I never looked back and felt confident that I could make my dream come true with your help. On the 2nd attempt, I was pregnant! I had a wonderful and healthy pregnancy. Everything has been such a positive experience with you and your amazing and caring team.

I have already told so many people about you all, as I hope that other women like me will put their most cherished hopes and dreams into your hands. Thank you all from the bottom on my heart!  With my very warm thanks and please pass especially to Dr. Elena and Anna Macarova with the donor team. I'm just so happy!

Much love, Kerry